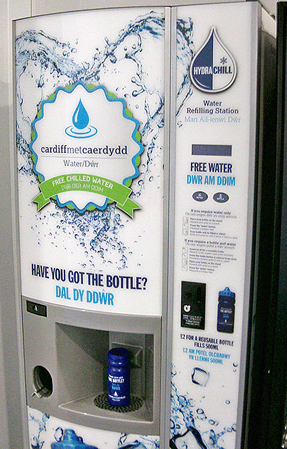 Cardiff Metropolitan University have delivered Hydrachill a supreme vote of confidence by ordering ten new machines to add to their three original units on campus.
Five 2-in-1 HydraChill chilled water and bottle units, customised to Cardiff Met's new livery (pictured) have been newly installed at the university's Llandaff campus, with five further machines to follow from June 2013 at their Cyncoed and Howard Gardens sites.
UWIC Sport, the university's renowned sports division installed the very first HydraChill water-only units at their world class National Indoor Athletics Centre in Cyncoed, aided by funding support from Dwr Cymru Welsh Water.
"We have been working with HydraChill for over three years in the development, branding and installation of three chilled water dispensing machines in our sports facilities" commented Cardiff Met Assistant Director of Sport Chris Jennings "Those machines service up to 9000 customers per month and have not broken down or failed to dispense at any time during this period, providing users with a constant supply of free chilled water".
"The benefits of installing the HydraChill machines have been: the elimination of the spillage and wastage associated with the traditional water fountain dispensers, promotion of water as a source of refreshment and a dramatic reduction in the amount of plastic bottles in our waste bins"
Hydrachill Ltd Director Nick Davis commented "Cardiff Met's decision to install ten further units across campuses reflects not just the popularity and reliability of HydraChill machines but their ability to add value by heightening customer brand presence. For those seeking to provide a quality, brand enhancing facility to staff and visitors, Hydrachill offers the perfect solution?"
"Hydrachill Ltd would also like to thank Dwr Cymru Welsh Water for their initial support in getting this project underway at the university. Cardiff Met's response reflects a widely held appreciation in the environmental value of mains-fed drinking water, when made freely and hygienically available. HydraChill's combined water and reusable bottle machine functions as an excellent medium for promoting this."