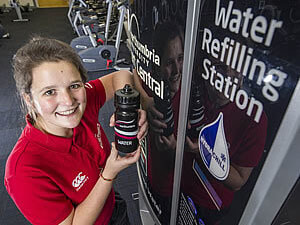 Two innovative water dispensing machines at Northumbria University's Sport Central have now been used over three million times, saving bottles from waste and supporting sustainability.
The University introduced the HydraChill water refilling stations to its £30 million Sport Central facility in 2011 to provide gym members and visitors with free chilled water before, during and after their workouts.
The machines dispense 500ml of water into members' water bottles and also dispense reusable Team Northumbria-branded bottles for those without a container.
Less than five years after their introduction, the machines broke the one million uses barrier, a figure doubled within a further four as the HydraChill machines continue to perform strongly.
This led to other Hydrachill units being installed elsewhere on the Northumbria campus.
Northumbria University's Sustainability Advisor, Katie Ridley, said: "These machines show the incredible difference that reusing items, such as water bottles, can make. Essentially, we have saved the equivalent of one million containers from waste bins or from ending up as litter – all this from just one building and in less than five years.
"Additionally, as it is mains-fed water it is delivered far more carbon-efficiently than bottled water, further helping our efforts to improve sustainability together."
HydraChill founder Nick Davis added: "Sports Central was our first university customer, having seen our prototype water and bottle machine at Newcastle's Discovery Museum. Helped by their success, we now have HydraChills at universities across the country and are pioneering machine installations in new areas such as public transport stations, a UK commuter first".
'The Sports Central machine sustainability achievements undoubtedly contributed to our receiving a Green Apple Award for Environmental Best Practice at the Houses of Parliament and to our being honoured as Green World Ambassadors. Our goal remains better access to free hydration for all"
Northumbria University is a UK leader in terms of environmental sustainability. The University's Northumberland Building was the first building in the UK to be fitted with building-integrated solar panels and City Campus East benefits from rain water collectors on the roof which are used to flush toilets within the building.
The roof of Sport Central is fitted with solar panels to help to generate electricity needed for the building.
Sport Central is the University's £30 million facility for sports, research and teaching. It is fitted with a gym, multi-use sports halls, golf simulators, a 25-metre swimming pool, 40 metre sprint track, a climbing wall, teaching labs used in nutrition, sport and exercise science and a 3,000 seat arena which is home to the Newcastle Eagles basketball team.
Northumbria is a research-rich, business-focused, professional university with a global reputation for academic excellence and among the top 40 most environmental and ethical universities in the UK according to the People & Planet University League 2015.