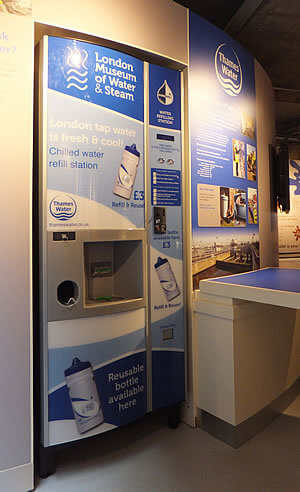 HydraChill was delighted to have featured in the successful £2.3m re-opening of the London Museum of Water & Steam, Kew.
After many months of hard work by contractors, staff and volunteers the Museum formerly Kew Bridge Steam Museum, re-launched under its new name in a ceremony opened by the honourable Ed Vazey MP, Minister for Culture.
Guests were invited to a tour of the splendidly refurbished premises, incorporating lovingly preserved artefacts and detailed information on the fascinating history of water provision in London. Today's visitors are now greeted by the latest of London's drinking water offerings, a customised HydraChill 2-in-1 unit.
Sponsored by Thames Water the HydraChill machine has been fitted to the Museum's new livery (see image). In addition to a free chilled water refilling facility, the unit offers visitors an optional reusable bottle, again customised to Museum branding. The bottles will serve as a helpful revenue generator for the Museum and a popular souvenir for visitors.
Museum Director Penny Jenkins commented: "We are delighted by the service the HydraChill machine provides, its attractive presence complementing our new facility".
"Our visitors gain a valuable insight into the history and challenges of London's drinking water provision. To accompany their Museum tour they can now secure a free 500ml refill of chilled & filtered fresh drinking water, delivered with 21st century style and appeal. We would like to thank Thames Water for their HydraChill donation".
HydraChill director Nick Davis added. "It's reassuring to know that visitors can sustain themselves with a bottle or free water refill from the Hydrachill machine and enjoy a tour of this fantastic museum. The whole facility is a credit to all involved and a must-see for Londoners, steam enthisiasts and tourists alike".