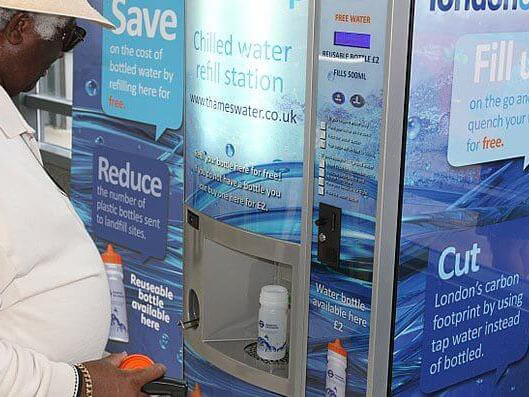 The lack of a water bottle refilling facility at 'on the go' locations inspired a Swansea company to develop a free water solution, for which it has now received global recognition.
Hydrachill Water Refilling Stations were Global Bronze Winners in the 2016 World Awards for Food and Water Projects held in Bucheon, South Korea. The Green World Environmental Awards were open to nominated Companies, Organisations and Governments, worldwide.
Re-fillable to all bottles, HydraChill stations provide users with free chilled & filtered water access, together with the option of purchasing a reusable bottle to retain and reuse. Revenue from the bottle sales helps fund the free water provision and re-enforce the message on bottle re-use. Graphics on both the HydraChill unit and bottle can be customised to requirements.
The impact of the free facility has been remarkable, with some locations having exceeded a million users. Hydrachill's breakthrough accomplishments also include successful installations with Transport For London, becoming the UK's first free drinking water provision for commuters.
The World award recognises Hydrachill's achievements in reducing single-use bottle waste and in promoting a more carbon efficient mains-fed drinking water alternative. It follows Hydrachill's UK Award for Environmental Best Practice, received at the Houses of Parliament in November 2015 and its being honoured as Global World Ambassadors for 2016.
The problem of single-use plastic water bottle waste is now a global concern, with San Francisco becoming the first city to ban their use in January 2016.
It's hard to believe but in 1980 UK total annual consumption of bottled water was 30 million litres. Today the figure is nearly 3 billion litres, an almost 10,000-fold growth and mostly in jettisoned single–use plastic bottles. An estimated 350,000 tonnes of CO2 is emitted by the industry annually, 10% of this from bottle transportation alone. All whilst UK mains-fed water quality remains among the best in the world, delivered to our taps at a fraction of the cost, not least the environmental cost.
"We're showing what can be achieved when a dynamic, hygienic and appealing solution is made freely available to users outside their home" said Hydrachill's founding director Nick Davis. "We are delighted with how readily consumers respond to our solution and with the recognition our efforts are now receiving." "We're proving the environmental value of effective choice. Build it and they will indeed come. Further pioneering initiatives will be announced shortly, as we progress the case for better free hydration availability."