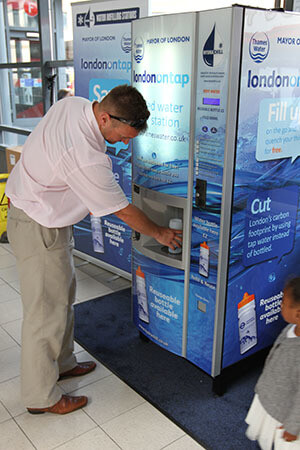 The challenge to improve 'On the Go' access to free drinking water has been helped take a landmark step-forward, courtesy of HydraChill Ltd.
For the first time, anywhere in the UK (and possibly further) thirsty commuters have been able to refill their drink containers with free chilled and filtered mains-water thanks to the initiative supported by Thames Water and Transport for London and sanctioned by the Mayor Of London.
Commuters at Hammersmith Bus Station, including users of Hammersmith Tube, can now get access to free chilled, filtered mains water instead of having to buy bottled water.
The solution is provided by a HydraChill Water Refilling Station, a unique UK invention where consumers can hygienically refill their drink containers with chilled, filtered mains-water and consume on the go.
If commuters do not have a bottle available, the refilling unit dispenses an empty 500ml reusable bottle (£2) which can then be filled up. The recyclable bottles carry a request to help cut London's carbon footprint by refilling with tap water.
While the Hammersmith project has been under consideration, Hydrachill machines have established their popularity and durability in a range of trial locations around the UK including Universities, Museums and Fitness Centres.
HydraChill's founding director Nick Davis commented "Working initially with water utility companies, our proving ground has been universities, museums, sports centres and even our first school in Enfield."
"The focus on mains water as a healthier, more environmental option grows exponentially. What's less optional is free available public access. HydraChill was born from frustration at lack of 'on the go' water availability. With support we have the potential to help make a significant impact, there are so many positive messages associated with this project. Ultimately it's about choice and the consumer's entitlement to hygienic mains-fed alternatives, for the betterment of their own health and their environment's. Transport hubs are a logical progression point."
Thames Water sustainability advisor, Pavan Badesha, said: "We're proud that London and the Thames Valley has some of the best quality drinking water in the country and it's great that schemes like this one are making it more readily available. Reducing the need to buy a new bottle every time we want a drink of water is a very positive step for our environment too at a time when we should all be thinking about how we can do our bit."
Mike Weston, TfL's Director of Buses, said: "We're constantly looking at ways to improve our customers experience whilst travelling on our network. As part of that, we have worked with Hydrachill and Thames Water to install a mains drinking water unit at Hammersmith Bus Station to keep customers refreshed during their commute."
In 1980 less than 50 million litres of bottled water were sold in the UK. That figure is now more than 2 billion litres as water becomes the consumer's soft drink of preference.
At least 25% of UK bottled water is imported, mostly from France.
93% of bottled water is sold in single use non-returnable bottles, the majority of which end up as litter or landfill.
Thames Water say that a litre of their mains tap water creates about 0.0003KG of CO2, which is believed to be around 600 times less CO2 than a litre of bottled water.
In 2013 Thames Water carried out more than 450,000 tests on water samples taken from source to tap. The firm achieved a compliance score of 99.99 per cent – its highest – against stringent UK and European standards and up from 99.97 per cent in 2012. It placed them joint top among water and sewerage companies.