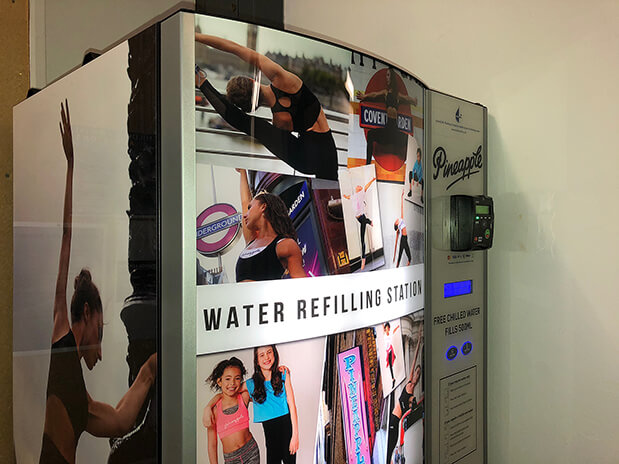 Just when you wondered where next HydraChill might emerge, up steps one of world's most famous dance schools.
With HydraChill now waltzing across the UK from campuses to transport hubs and visitor attractions, Pineapple Dance Studios decided it was time the award-winning refilling stations danced to a new tune.
The Covent Garden Studios, given global prominence by a popular TV series, have recently commissioned their first bespoke HydraChill. And the impact has already been remarkable. "We saw the HydraChill unit at TfL Embankment Pier" said Pineapple Studios Manager Luke Long "and were struck by its possibilities."
"We were intent on upgrading our drinking water facilities for members but in an imaginative and dynamic format, which captured our brand quality and enhanced user refill experience."
The HydraChill water is chilled, filtered and free. Beautifully appointed with distinct customised graphics, the unit also vends Pineapple reusable bottles that are proving a hit with members and visitors.
"We're offering Pineapple refillable bottles from the HydraChill at a special £3 each" says Luke "Sales have already generated significant pay-back. It helps that we have included the cashless payment option for those without loose change."
The new facility also helps environmental objectives, being refillable to all containers. "Single–use plastic bottle waste is now a major issue" added Luke "Pineapple are conscious of our responsibilities and HydraChill helps us take another step in the right direction".
The modular unit can also be future adapted for HydraChill's unique digital screen surrounds. An all singing, all dancing opportunity for growth.
You can view a video on facebook here:
https://www.facebook.com/pineappledance/videos/10155120871493031
or on twitter here:
https://twitter.com/pineappledance/status/910495113452883968