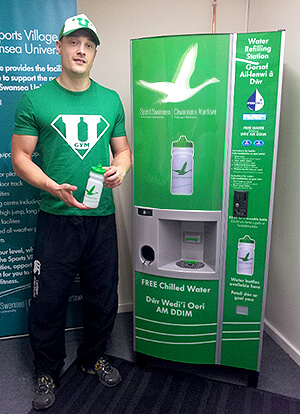 The Hydrachill project arrived 'home' in May 2014 with the launch of the first machine in its city of origin - and as coincidence would have it, the fitness centre once frequented by HydraChill's founder over twenty years earlier
A customised HydraChill 2-in-1 water and reusable bottle machine was unveiled at the centre, now part of the impressive Sports Village complex at Swansea University, which includes the adjacent Wales National Swimming Pool.
As befits an institute now blazing its own trail as a centre for sporting excellence, Swansea's HydraChill machine had an immediate impact with members.
"Within a few days of our installing the unit, the machine broke the 1,000 uses barrier", commented Assistant Head of Sport Kevin Harrison.
"As students and members become familiar with the service we anticipate usage quickly further justifying our decision to invest in HydraChill."
Head of Sport, Gwyneth Diment added, "We have an obligation to provide our members free access to drinking water. With HydraChill we can now do so in a manner that better reflects our brand and service. We also anticipate a significant reduction in litter recovery on site, as members either re-use their existing bottles at the machine or buy one or our own branded reusable bottles for retention and use. It's also nice that we could turn to a local company for such an innovative solution"
For HydraChill founder Nick Davis it was a return to old stamping ground. "I used to live within walking distance of this centre and was a regular user. Whilst I could barely then have imagined returning in such circumstances, I could equally never have envisaged the changes that have taken place on site. The Swansea University Sports Village is now quite superb and I'm delighted that HydraChill can help reflect that facility excellence".
The commissioning certainly please delegates at the BUCS national conference held at Swansea University who had this refreshing new water and bottle service available to them. Among them included Royal Holloway University who quickly followed up with the purchase of two units of their own. Cardiff University Sports followed suit.
As postscript three further units ensued at Swansea University Sports, including at their iconic £450m Bay Campus, one of only two worldwide with its own seafront access.