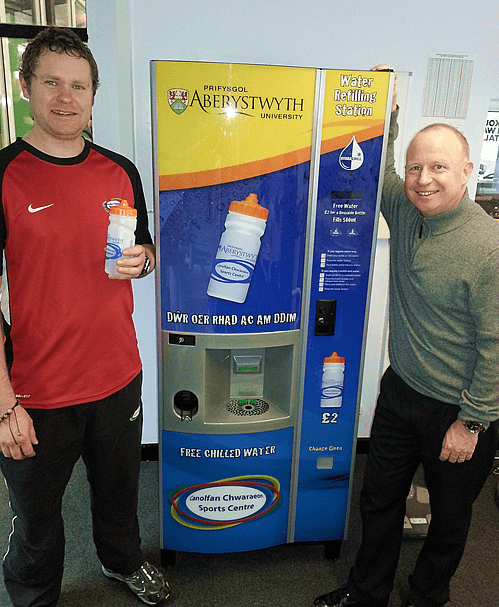 Aberystwyth University became another in a rapidly growing list of UK University Sports Centres to invest in HydraChill 2-in-1 Water Refill Stations as their primary delivery mechanism for student drinking water provision.
Pictured above the new HydraChill machine and bottles have been fully customized to university branding and bi-lingual requirements and now take pride of place at five key locations around campus.
"The HydraChill unit provides exactly the solution we were seeking," commented Facility and Commercial manager Jeff Saycell. "The level of hygiene and wastage associated with our previous drinking water facility was no longer to the standard now expected of a progressive university and sports unit. HydraChill helps us project our premises into a new era, better complementing the high quality equipment and facilities we have invested elsewhere. It significantly helps enhance our brand marketing to users, students and the community."
Darren Hathaway , Business & Operations Manager added "For many years we existed primarily as a service facility. We now have to be far more commercially conscious with a much greater band and marketing focus for which HydraChill suits our purposes perfectly, in addition to meeting modern university health, free hydration and reduced carbon obligations."
The university sports centre has over 4,000 regular members all of whom will now have improved access to fresh, chilled, filtered water and an optional reusable bottle from the appealing new unit. "The HydraChill machine is fresh, clean, colourful and easily maintained" added Saycell. "the bottles will provide a welcome additional brand driver and revenue generator as well as reducing litter waste. Hopefully we can soon progress to installing further units"
Darren's words proved prophetic as five further Hydrachill units were subsequently commissioned , including within the universities catering and library departments. Wall mounted units have also been installed elsewhere on campus.