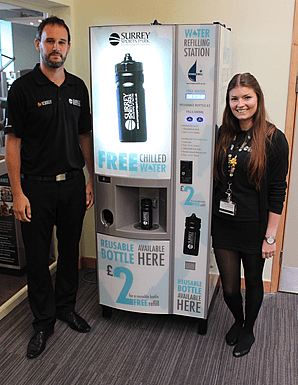 Surrey Sports Park, one of Europe's premier sport and leisure facilities, has embedded itself firmly as a longstanding HJydraChill customer.
The £36m elite training venue, owned by the University of Surrey, offers world class sports facilities and services for national and international events and teams, hosting training camps for major international events including Olympics, Paralympics and the Rugby World Cup.
The Sports Park is also the permanent training base of Harlequins Rugby Union, Surrey Storm Netball, Surrey Scorchers Basketball, Surrey Smashers Badminton and leading UK swimming club Guildford City.
Members and visitors using the Sports Park's superb Fitness Centre became the first to access the attractively customised HydraChill 2-in 1 Water Refilling Station.
The station vends free chilled water refills to Sports Park members and guests who bring their own bottle, or a Surrey Sports Park branded bottle for members to use and keep for just £2. Such was the impact that the machine rapidly reached the one million users mark and has sold many thousands of reusable bottles.
"We were conscious that our previous drinking water provision for members was thoroughly underwhelming, causing us problems, which did not reflect the quality of service required of this facility." commented Head of Operations Dave Hitchcock.
"We wanted to install a suitable fresh water feed in the area outside the Health and Fitness Suite and received positive references from other universities on HydraChill, so saw it as a perfect opportunity to invest in our first unit. Customer response was immediate and exceptional. Investing in HydraChill turned into one of the best decisions we have made. We were so pleased with the first machine and service that Hydrachill Ltd has since become the water station provider across our site"
"Our brand is a vital asset. HydraChill offers us the ability to add genuine value to our customer service". This has definitely proved the way forward for our drinking water offering"