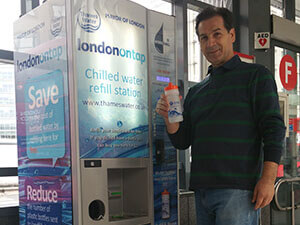 Free public drinking water at our stations?
Who said it wasn't achievable? Within two years of TfL's Hammersmith Bus Station becoming the UK's first to offer a free drinking water system for commuters, it's award winning HydraChill Water Refilling Station had exceeded 100,000 users. Within four, that number had tripled, exponential growth reflecting improved consumer habits and preference.
The HydraChill offers free chilled & filtered mains-fed water, refillable to all bottles.
For those without a convenient vessel, a TfL reusable bottle is available from the machine. Bottle revenue supports the machine's upkeep, so everyone's a winner, not least Hammersmith commuters.
Among regular users are Abedin 'Dino' Bajraktari (pictured) and staff at Hammersmith's Barbers Club salon. "Before Hydrachill we would regularly buy water bottles, which we'd then throw away" said Dino. Now we just use the HydraChill.
It keeps all users freely hydrated and has eliminated plastic bottle waste around the station."
"The HydraChill has become a community machine," added Dino. "Commuters, school-kids, local staff, even the community police, we all use it. It's now a station feature, which everyone loves and respects."
"The machine has proved incredibly reliable. It's part of our daily lives now, we simply couldn't imagine being without it. "With summer upon us, TfL are constantly reminding commuters to stay hydrated. HydraChill shows how this can be made free and accessible to all."
Since the Hammersmith commission, HydraChill has been rolled out at TfL London River Services with installations at Tower, Westminster and Embankment Piers all proving equally popular. "We're obviously hoping the new mayor will progress an even more enlightened approach to free hydration provision, added HydraChill's Founding Director Nick Davis. "Hammersmith has helped prove how this can be both sustainable and hugely appreciated."