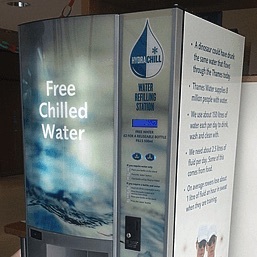 School children visiting the Arbib Education Centre at Henley's River & Rowing museum can stay cool thanks to its new HydraChill Water Refilling Station.
The HydraChill machine was donated by Thames Water and has been designed to illustrate the museum's key themes, including iconic images of Henley and Olympic rowers, together with interesting facts on the River Thames and water itself.
The new HydraChill two-in-one station provides all visitors with 500ml of free chilled tap water with the added option of buying a museum-branded reusable bottle – which is available from within the machine. Each bottle displays the renowned character of Mr.Toad and costs £2 to help raise extra revenue for the museum.
Helen Cook, Head of Learning at the museum, said: "We are extremely grateful to Thames Water for this valuable donation. The HydraChill machine is an attractive and welcome addition to our museum's visitor service provision. In addition to dispensing free water, it also functions as an interactive aid to informal learning, helping to inform on current health and environmental issues. Visitors also have the option of a souvenir reusable bottle to help reduce litter through continued future use. The bottle contributes helpfully to our revenue and will also provide visitors a long-lasting reminder of their visit."
Thames Water community investment manager Rosemary Waugh added: "We are delighted the museum is so pleased with the HydraChill machine, which is the first of a number of HydraChill units Thames Water are donating to key partners in our region. The importance of good hydration, especially to schoolchildren, is well known and I am glad the machine also helps to promote the quality of our tap water."
Nick Davis, founding director of HydraChill Ltd, said: "This latest installation is a perfect example of how our relationship with the UK water industry was designed to function. HydraChill machines have been specifically developed to help promote the environmental benefits of mains fed water and improve public access to free water provision. We are preparing further scheduled HydraChill installations with Thames Water and believe that such enhanced provision should ultimately become the norm for 'on-the go' users."
The River & Rowing Museum is one of the UK's leading independent regional and sporting museums, uniquely focusing on the themes of the River Thames, the town of Henley-on-Thames and the international sport of rowing. The museum's Arbib Education Centre is a very popular venue for school visits, and welcomes over 20,000 children and adults a year.