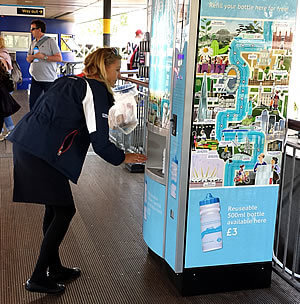 Ten million commuters and tourists using London's Westminster and Tower piers now have unprecedented access to free chilled and filtered drinking water, courtesy of Transport for London's (TfL) commitment to improving river passenger amenities.
HydraChill Water Refilling Stations have been installed at both piers, offering London River Services passengers a free refill for all water bottles and were quickly followed by a similar facility at Embankment.
For those without a bottle, the machines also offer a souvenir reusable container, sales revenue from which will help fund the free water provision.
The river service installations are another significant step in HydraChill's groundbreaking mission to secure improved public access to hygienic mains-fed drinking water.
They follow the pioneering success of HydraChill at TfL's Hammersmith Bus Station in 2014; the UK transport system's first free drinking water system for commuters.
The River Thames is both an iconic symbol of London and an integral part of its transport network. The river offers TfL commuters and tourists some of London's best views, passing through the heart of the city and many famous landmarks. The HydraChill stations are aimed at improving facilities and travel experience for LRS rapidly growing passenger numbers, with 12 million river passenger journeys forecast by 2020.