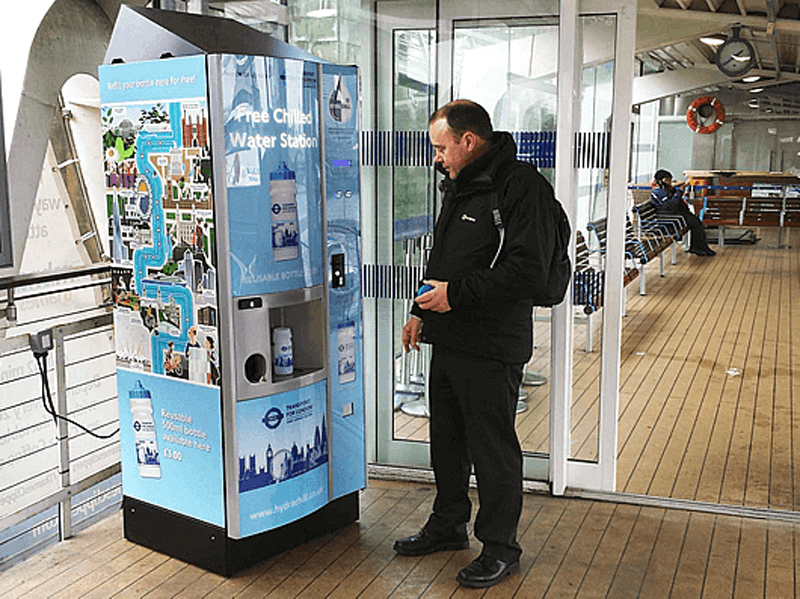 London commuters and tourists travelling the River Thames over the Easter holidays are being offered an additional free hydration facility, courtesy of the latest TfL HydraChill installation.
To complement the HydraChill Water Refill stations already proving popular at Tower and Westminster Piers, London River Services have commissioned a further unit in the heart of the city, at Embankment Pier,
Journeying along the River Thames by LRS River Bus and River Tours provides one of the best and most enjoyable ways to view the great sights of London. Over eight million customers annually enjoy passing many of the city's world famous landmarks this way. Such is the river networks growing popularity that passenger numbers are forecast to increase to 12 million by 2020.
Many of the renowned attractions viewed on Thames journeys, appear on both the Embankment HydraChill and its optional reusable bottles. The HydraChill side-panels feature LRS's stylised River Map of London (pictured.), whilst iconic London's landmarks also feature on the bottles, adding to their souvenir value.
Together with TfL passengers using the popular Hammersmith facility, even more London commuters can now enjoy free chilled drinking water courtesy of HydraChills. With the addition of Embankment Pier our mission to provide improved public hydration access flows ever stronger.