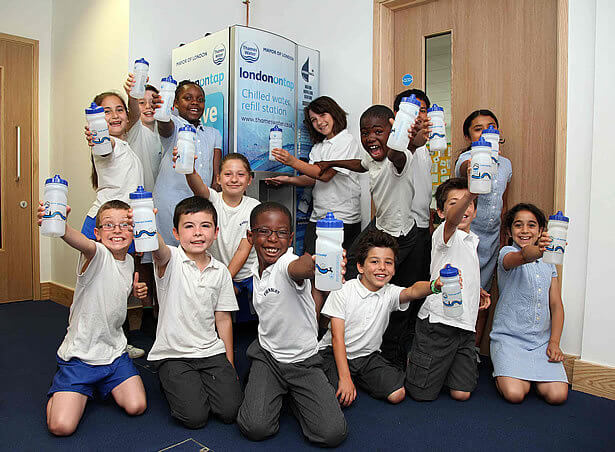 School children in London are now keeping cool and well hydrated thanks to the UK's first HydraChill school machine.
The customised chilled water refilling station, sponsored by Thames Water and approved by the Mayor of London was awarded to Eversley Primary School, Enfield, for winning a water bottle design competition.

The school's EcoClub's eye-catching new design, available for sale from the machine, will be used by the water company to help promote the benefits of tap water and good hydration.
Pupils from the EcoClub (aged 8-11) said:
"It's great that we get to promote drinking tap water using the water bottles we designed. We don't understand why anyone wouldn't want to drink tap water."

"Now that we have our own HydraChill machine, everyone in the school wants to drink tap water. Every day there's a long queue to use the machine."

"It tastes great, it's free and it means that we don't waste money and destroy the environment by throwing away plastic bottles each day. Our winning bottles can be sold from our HydraChill and helps us raise money for Eco Club activities."

Nick Davis, managing director of HydraChill, said:
"It's extremely heart-warming to see our machine receiving such fantastic use by the Eversley children. It's a superb aid to improving their hydration and reducing litter waste, delivering tap water to them in an appealing new format.
The popularity of the machine is extraordinary, over 4,000 500ml uses within the first fortnight. Demand is such that monitors have now been appointed to collect class bottles and refill them twice daily. For those looking to promote positive health and environment initiatives in schools and other suitable arenas HydraChill provides a wonderful service."

The competition run by Thames Water was open to schools across London as part of the London on Tap campaign to promote tap water. The prize winning HydraChill machine also carries the endorsement of the Mayor of London's logo.