Video won't load? Watch in on YouTube.
Hydrachill Ltd has taken a radical step in pioneering a much needed refillable solution for mineral and spring water.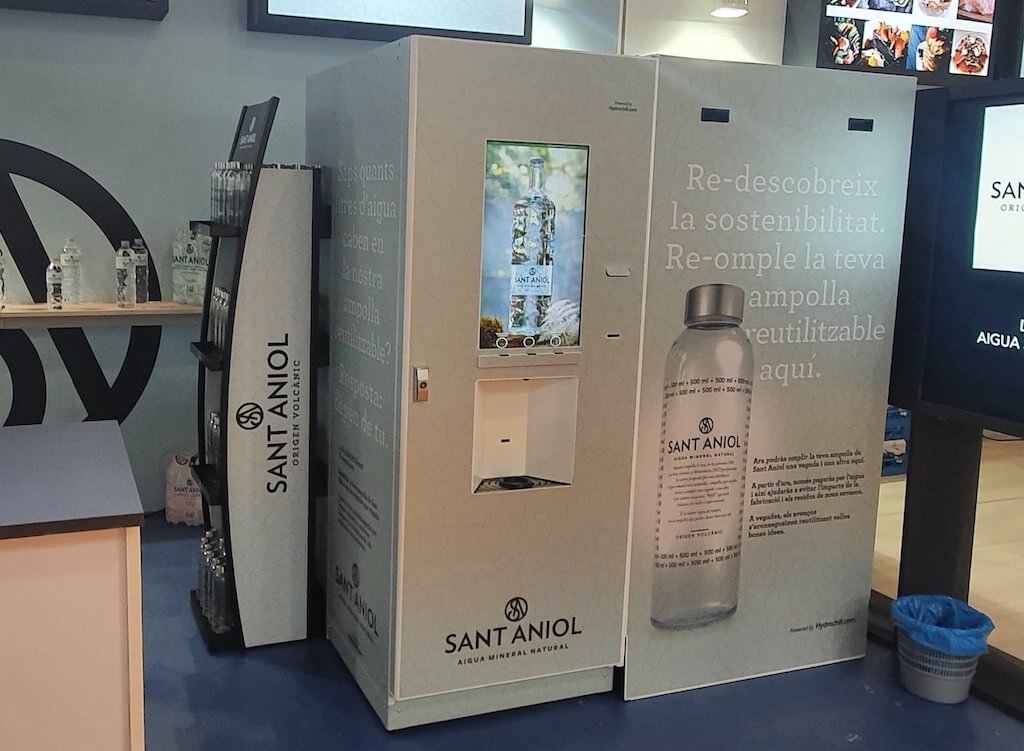 Despite heightened awareness and numerous campaigns on behalf of refillable tap water over the past decade, single us bottled water consumption continues to grow..
Between 2010 and 2019 annual UK bottled water consumption grew from 2 billion to 2.5 billion litres. In 2020 UK per person consumption stood at 45.8 litres. This figure is expected to grow to 58 litres by 2026*. *Statista.com
A key contributor has been the UK consumer increasingly switching from sweetened soft drinks to water, as their beverage of choice.
Whilst helpful for the individual's long-term health, our environment is less benefited, as single use water bottles continue to profligate.
So in reality the war against single bottle disposabilty remains akin to running up an ever-accelerating down escalator.

One answer has to be providing an appealing and effective solution for mineral and spring water lovers to refill with their favourite brands in 'on the go' retail and public areas.
That's an area Hydrachill understands very well, having won both UK and global awards for its efforts in developing 'on the go' solutions for mains-fed refillable provision.
In alliance with leading Catalan mineral water supplier Sant Aniol, Hydrachill's stunning new Mineral Water Refilling Station has been launched at the 2022 Alimentaria International Food and Drink Fair in Barcelona.
The technology combines the latest generation of Hydrachill water refilling stations and a proprietary solution for hygienically dispensing and refilling reusable water bottles, from replenishable 750 litre containments.
For Sant Aniol CEO Ferran Ribal the solution has the potential to reduce their disposable packaging requirements by up to 90%, offering the leading Catalan brand substantial cost and logistics savings. Equally significant is the clear statement on his company's intention to drive circular solutions in the Spanish mineral water sector.
The combined units have been designed by Hydrachill to provide a stunning visual whole. The new Hydrachill dispensing unit, which will operate in the mains-fed market also, contains the latest in touch-free refilling, combining dynamic screen interaction with touchless choices.
Hydrachill's unique 2-in-1 water and bottle technology also moves to a new level. The new unit is now capable of offering consumers any size, material or combination of reusable water bottles from 300ml up to 1 litre, saleable from the machine.
Optional ticket printing or code-reading facilities gives units flexibility for both retail and public environments.
Such has been trade fair response that Sant Aniol will be launching the combined new variant Hydrachill Mineral Water unit at Catalan tourist and retail outlets from this summer.
For Hydrachill Ltd, developing inventive solutions to help reduce single use bottle waste, crosses into exciting new territory.