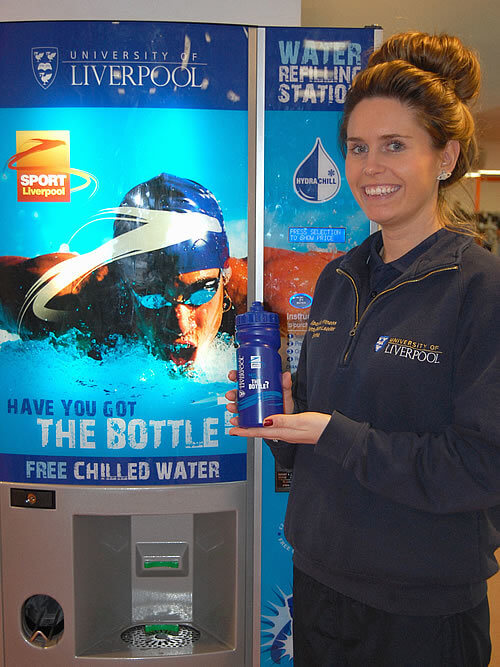 Sport Liverpool's decision to commission two new HydraChill 2-in-1 Water Refilling Stations as part of their £5m Sports & Fitness Centre improvements were rapidly justified. Within three months both units were blazing a trail, with unparalleled usage.
"The effect has far exceeded all our expectations," commented Pete Sampara - Sports Operations Manager "The Hydrachill machines have proved extremely popular. Even allowing for University's Christmas Vacation period and two-week closure, the machines have already accumulated over 60,000 500ml chilled water dispenses between them. It's clear the units have unique appeal. None of our previous water dispensers could have dealt as efficiently and hygienically with this level of utilisation. Additionally, sales of our branded reusable water bottles have proved a great hit with most of our 8,000 members, allowing us a revenue stream not possible with any other unit"
The Hydrachill machine graphics - seen here alongside Emma Swinney - Fitness Suite Team Leader - have been fully customized to Sport Liverpool's own brand requirements, creating a striking presence near reception and within the new fitness suite. Pete Sampara added "In capturing our Sport Liverpool brand imagery so vividly, the Hydrachill units add genuine aesthetic appeal to our environment. Both visually and in terms of the free water service provided by the machines these add tangible value to customer service and member experience.
"Maintaining and operating the machine's is easy." added Kevin Seddon - Supervisor. "An additional environmental bonus is the reduction of on-site waste and litter. Because the Hydrachill machines can accurately refill all types of containers 60,000 uses already represents a huge reduction in litter recovery from the paper cups and single use water bottles of old. We are excited by the current levels of usage and feel very confident these will improve over the longer-term"
Hydrachill Ltd.'s founding director Nick Davis was delighted. "These figures re-confirm the level of use being achieved in our other installations around the country" he stated. "They fully validate our beliefs and objectives. Firstly, that demand for carbon efficient, hygienically delivered mains-fed water could exceed all others when made more dynamically accessible to on-the go users. Secondly, that the environmental impact of such improved provision could be massive. Extrapolate the Liverpool figures across thousands of machines and you'll begin to gain an understanding of the potential litter and carbon reduction savings this project represents."
'Having proven the concept, allied to machine reliability in our launch projects, our next objective is to extend the solution to new territories and accomplishments, expediting improved 'on the -go access' initiatives "