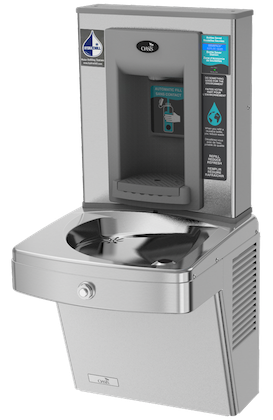 Hands-free Unit with Mounted Chiller and Basin
Surface Mounted Automatic Bottle Filler with integrated chiller and basin. Ideal for schools, colleges, sports and leisure facilities and busy commercial and transport establishments. Customisable to your needs.
Product Features
Automatic Filling


"Hands Free" automatic bottle filling with shut-off timer

Surface Mounted


Integrated basin and chiller housing. Can mount to almost any surface

Large Bottle Alcove


Large bottle alcove suitable for most refillable bottles.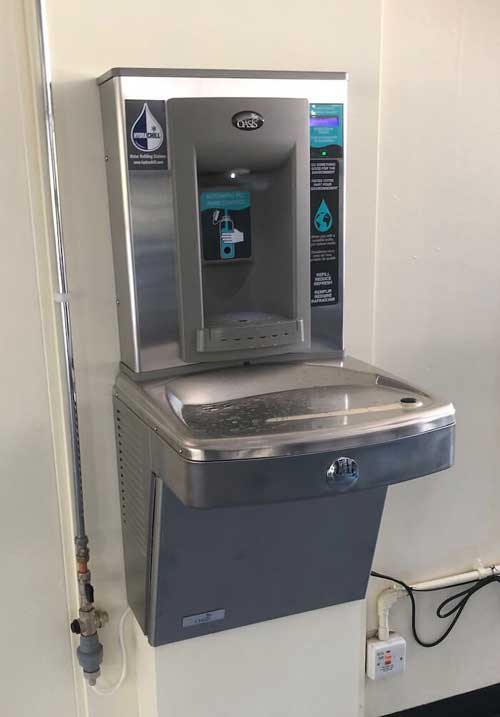 Product Specific Features
Energy efficient LED's illuminate alcove & aids night-time filling
Integrated Bottle counter, LED screen displays number of uses and bottles saved
Heavy duty steel frame with stainless steel basin
Essential Features
Built in drain. No waste tray to empty
Vandal resistant materials and design
Optional bubbler (drinking fountain)
Optional manual fill (push button operated)
ADA compliant for adult, children and disabled users
Drinking Fountain
Added water bubbler
Mechanically Operated
No electrical power required.
Manual Refilling
Push button operated (non automatic)
Site Survey
Free site surveys available