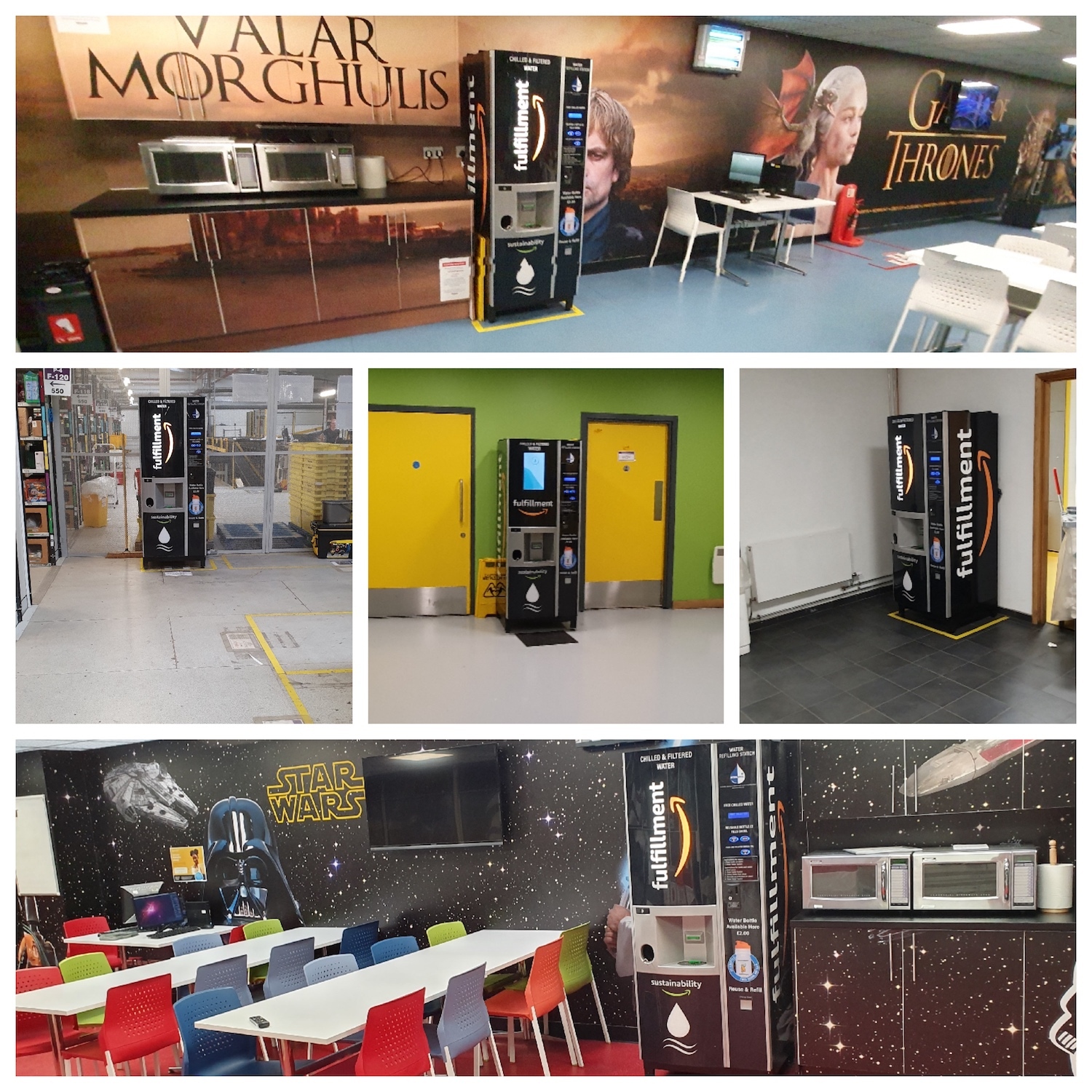 Enter any of Amazon's incredible Fulfilment Centres (FC's), the giant warehouses scattered across the UK and Europe and you will be greeted with a message familiar to all Amazon employees. "Have Fun. Make History."
The story of HydraChill's successful bidding, piloting and approval as a preferred water refilling solution for Amazon FC's has both in abundance. Fun in the process and history making in performace.
As with all great projects, it started with a problem and ended with a winning solution.
The problem began with the waste and cost profligacy of drinking water provision at a number of Amazon legacy (inherited) sites across the UK. Restrictions in mains water infrastructure meant that hydration provision in most areas could only be supported by floor standing bottlefed coolers. Not only were water costs and logistics challenging, the quantity of disposable single use cups and cones used in conjunction were staggering. In an era where sustainability was becoming sharply thrown into focus, something had to change.
The challenge was thrown to a number of water refilling system suppliers to survey, assess and propose a better solution. After an extensive process, HydraChill's unique customised combined water and reusable bottle innovation was declared the winning proposition. A pilot project to prove the principle was selected at a major site in Scotland and the rest, as they say, is history........
...... The hydration needs of the EDI4 pilot site in Dunfermline had previously been supported by up to 60 inverted water bottle coolers, depending on seasonal demand. In their place 19 mains fed HydraChill units were commissioned and connected to a newly installed mains supply and automatic drainage system.
The HydraChills were superbly customised to Amazon Fulfilment Centre livery, supported by Amazon Sustainabilty symbols and messages. At the launch event each EDI4 associate (employee) was given a free allocation of two reusable water bottles. These could be supplemented thereafter by purchasing bottles at a reasonable £2 from the HydraChill, with the bottle revenue donated to preferred local charities. Optional bottle carry belts were also supplied to associates 'on the move'.
After a 12 month trial the results were astonishing. In a year of trouble-free performance, the HydraChill machines had been used over 850,000 times and the site had reduced its single use cups by 1.1 million units over the same period.
Little wonder that EDI4's head of RME John Wilson was delighted to recommend HydraChill to his peers across the UK, nor that since 2019 multiple Amazon Fulfilment Centres and Logistic sites across the UK have adopted the HydraChill based sustainability principle.
And as a postscript, when COVID 19 having swept the UK and Amazon's role as a vital on-line supplier during the crises more significant than ever, one unique feature of HydraChill became inestimable. With the focus on contact contamination at its greatest, HydraChills unique ability to deliver water free from cross contamination possibility proved invaluable.