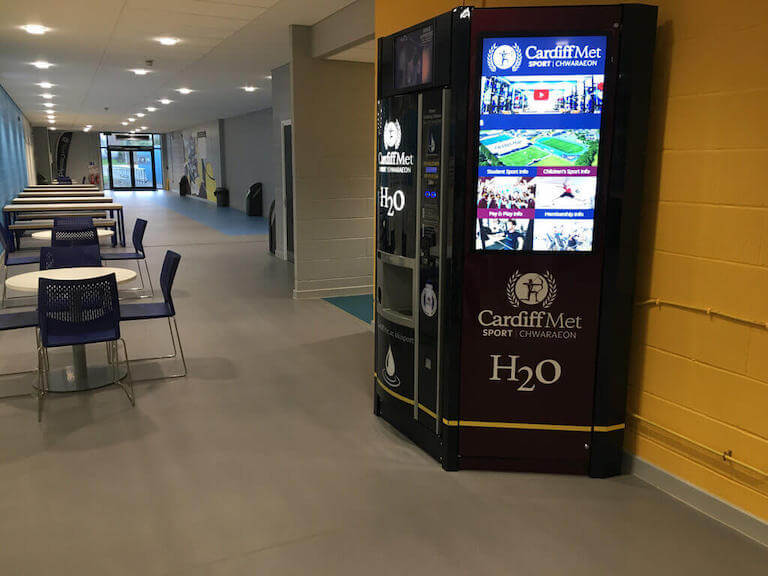 If ever a project represented the full range of HydraChill's objectives and benefits, the company's hydration history with Cardiff Metropolitan University encapsulates all.
In 2008, with sponsored support from Dwr Cymru Welsh Water, the university (UWIC as then was) invested in the companiy's first two pilot units, designed and developed by Hydrachill `Ltd with water industry support.
Jumping ahead more than a decade, those two original units including one at the world-class National Indoor Athletics Centre situated on the universities Cyncoed Campus, are still blazing a trail of unparalleled use and reliability.
In the intervening years three original water-only units have been successively joined by no less than fifteen further HydraChill Refilling stations across both the Cyncoed and Llandaff campuses, the latest pair commissioned for the new 2018/19 intake.
The Universities range now includes both customised 2-in-1 water and bottle units and a fully customised media screen surround system. The latter unit is branded for owned and screen operated by Cardiff Met Sport, one of the UK's most prestigous and successful academic sporting institutes.
Case Study Content 2
"As well as meeting essential hydration requirements, the new multi-screen HydraChill allows us to communicate directly with our students and visitors. It can provide updated news, videos and information and even allow them to interactively choose content".